Our Staff
KAREN L. JONES - Poetry Editor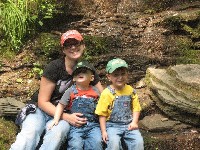 Karen L. Jones teaches high school English for the Medina Central School District, and also teaches writing and composition at Genesee Community College in Medina, New York. She studied writing at the University of Pittsburgh, completing her senior portfolio under visiting poet Betsy Sholl, now Maine's Poet Laureate. As an undergraduate senior, Jones was the poetry editor of Three Rivers Review, a student-run literary magazine sponsored and run by the University's Honors College. Jones went on to earn her Masters in the Art of Teaching from Pitt, and at the completion of her program, was selected as a Fellow of the Western Pennsylvania Writing Project through the National Writing Project. Her poetry has been published by the literary magazine Papercut; her essays and nonfiction work have been published by InPittsburgh Newsweekly, The Medina Journal Register, and The Buffalo News. Jones is married to Ric Jones, independent music publisher and freelance web designer extraordinaire. They have three amazing boys: Nicholas, Ryder, and River, all of whom are being raised to equate music and books with food and shelter.
TRACY A. FORD - Fiction Editor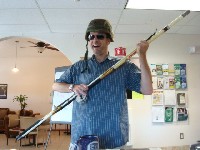 I was born, raised, and schooled in rural Northern California - amongst grapevines and very large trees. I met my wife while I was attending Humboldt State University in the foggy extreme north of the state. She was a biology major with an interest in wildlife. In 1995, after I finished my graduate degrees in Literature and in the Teaching of Writing, we followed her wildlife interest to a job in southern Oregon. She worked for the government, monitoring various threatened and endangered species in forests managed by the Department of the Interior. I had started my college career as a biology major (before switching to the comfy, welcoming world of literature), so I had enough course credits to qualify for a seasonal job with the same agency. Thus I spent half the year teaching writing courses for the local community college and half the year chasing northern spotted owls through the mountains. I was prepared to ping pong between these two jobs indefinitely when a friend from school told me about a job opening at GCC. Knowing that NY State was nothing but skyscrapers and pavement, I was not planning to apply for the job. Cities and people scare me. However, my wife prodded me, scoffed at my small-town mentality, and badgered me until I applied. She still laughs at my enthusiastic call after the interview: "There are cows, and streams, and trees, and small towns in NY! I could live here!" And I HAVE lived here - quite happily - since the summer of '99.
JOYCE CHIZICK - Art Editor
Joyce was born in New York City and grew up on Long Island where her closest friends were from around the globe, from Puerto Rico to Latvia, the Philippines to Germany. Watching the Island slowly dissolve into suburban sprawl, she chose to move as far from home as economically possible. At 17, she left home to pursue a degree in Art Education at Buffalo State College. Her senior year, she had the opportunity to study in Siena, Italy, and totally fell in love with the study of art history. She has returned to Europe several times, often with students. Her career spans teaching middle and high school art, BOCES art classes, five years at Buffalo State teaching Textiles, and 12 different courses at Genesee Community College. In addition to her college work, she is very involved with encouraging the various arts in the broader community by volunteering at Art Park, serving on boards for the Cornell Cooperative Extension, the Niagara Celtic Festival, and Orleans Child Welfare. She is also responsible for having created and directed the Lyndonville July 4th Artist's and Craftsman Show since 1975.
PEGGY THOMAS - Non-fiction Editor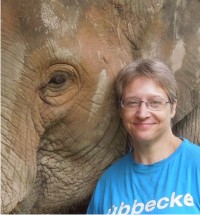 For Peggy, writing nonfiction is genetic. She grew up to the smell of Wite-Out and the click clack of typewriter keys as her mother (Margery Facklam) wrote 50 nonfiction books for children. Although Peggy always wrote as a kid, she longed to be a scientist, but could never decide what field to go into. After earning a Master's degree in anthropology, Peggy discovered that writing nonfiction allowed her to explore every subject. One year she can learn about bones and bodies from forensic specialists, then switch gears and hang out with elephants. Peggy is the author of 18 books for children including the award-winning Farmer George Plants a Nation, co-author of the writer's guide Anatomy of Nonfiction: Writing True Stories for Children, and a frequent speaker at schools and conferences. www.peggythomaswrites.com. Anatomyofnonfiction.blogspot.com.
JIM SIMON - Public Relations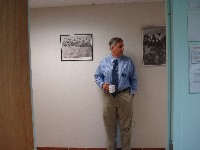 Jim Simon is a college administrator at Genesee Community College, a history teacher, a veteran, and a grateful husband of a loving wife and a proud dad of 8 beautiful children. He attended Erie Community College after high school, and later earned a BS from the USAF Academy and an MA in History from the University of Utah. He loves spending time with family and friends, relishes working as an assistant ranch hand on his family's homestead (assisting his lovely wife of course), and dabbling with pen, paper, and prose.
Ric Jones - Website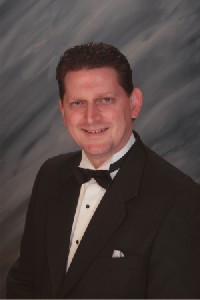 Ric Jones is the founder and owner of Imagine Music, a publishing company that sells original instrumental and vocal music, arrangements, commissioned works, as well as educational and curricular materials. Ric received both his Bachelor and Master Degrees in Music Education from Ithaca College (NY). Currently, Ric serves as the Director of the Middleport Community Choir (NY) and Musical Director of the Genesee Chorale (Batavia, NY). He is also the organist at St. Peter Lutheran Church in Medina (NY). Ric enjoys being a freelance web designer. Ric resides in Medina (NY) with his wife Karen, and their three children, Nicholas, Ryder and River.